Since I'm running a blog now, I figured this would be a great time to talk about my guitar restoration project. I'm in the middle of restoring a BC Rich NJ Series Ironbird. My obsession with BC Rich guitars drove me to seeking down an Ironbird model a few years ago, no matter the condition. The one I came across happened to be a very poorly mistreated model, and was in desperate need of a teardown and redo.
Quick story about getting the guitar: my wife and I were driving around one day, and randomly decided to stop by a music/pawn shop we were driving by. As I parked the truck, I said "I wonder if they have an Ironbird... yeah right." Keep in mind, that I've been looking for an Ironbird for literally years, with no luck. Obviously I could have bought one on eBay, but always for an outrageous price. We walked into the shop, and there was a wall covered in guitars, in a midst of a maze of amps and cabs. I look up on the wall of guitars, and sure enough - the first guitar in the lineup is an Ironbird. So of course, I looked right at it. Unfortunately, it was badly mistreated. It was covered in an awful spraycan black-and-white camo paintjob, followed by an obscene amount of clear coat. The electronics are a huge mess; only one pickup worked. Intonation was off. After examining the pickup and switch configuration, and the antique Kahler Flyer tremolo, I determined it's an NJ Series Ironbird.
A large facepalm followed.
The price - $150. I had to have it. It needed a good home and a restoration, so I had to have it.
I bought the guitar back in 2009. As soon as I got it home, I dove right into it. The first steps - tearing down, gutting, and sanding.
Fast forward to today - the guitar is still in the sanding stage, but it's because life got in the way. I had to put it aside to take care of other issues around that time. But now that we're settled and moving forward again, I'm pulling the guitar back out, and finally carrying on with the restoration.
Here are the beginning pics of the project.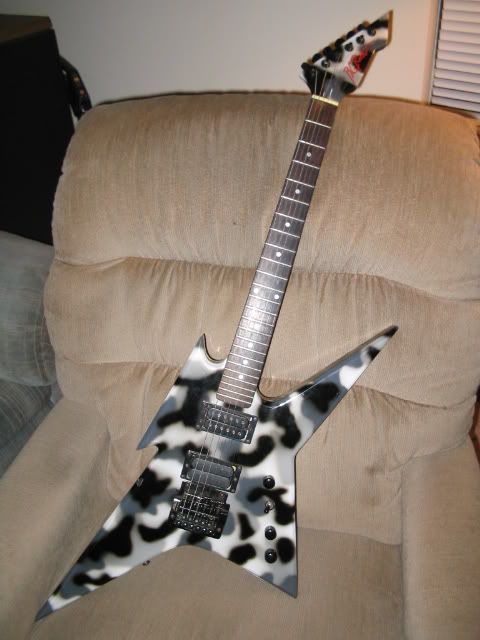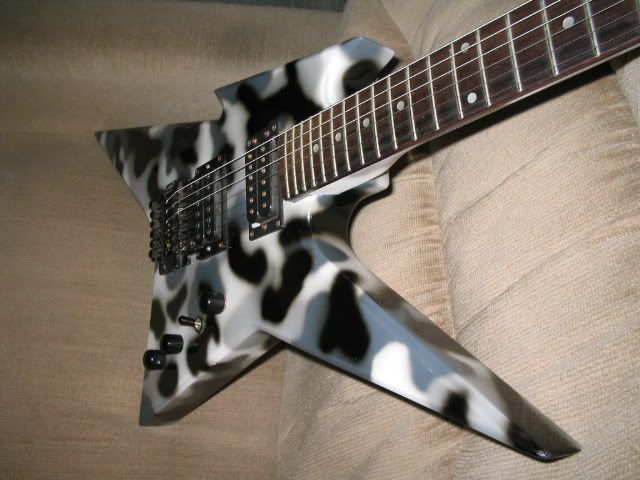 How the guitar looked originally. Looking at the pics, the custom paintjob doesn't honestly look half bad. But trust me - the photos play trickery. The paintjob close up was quite atrocious.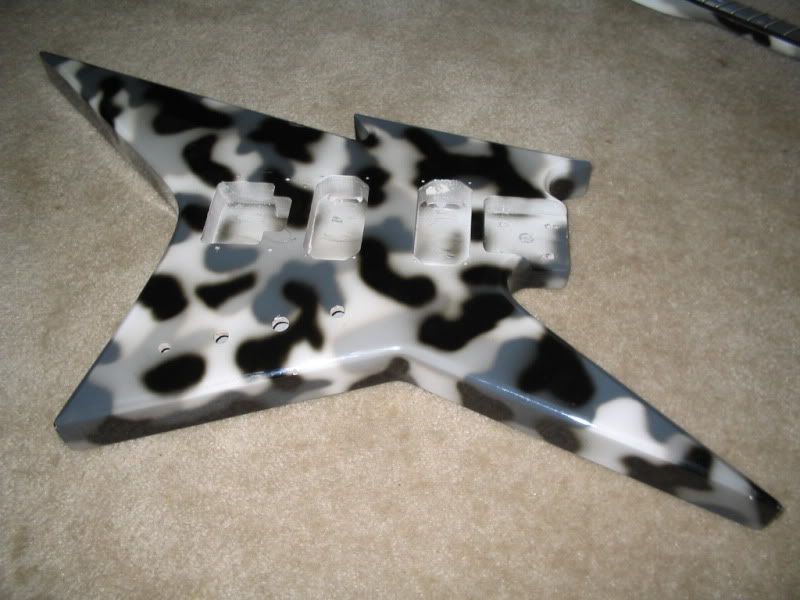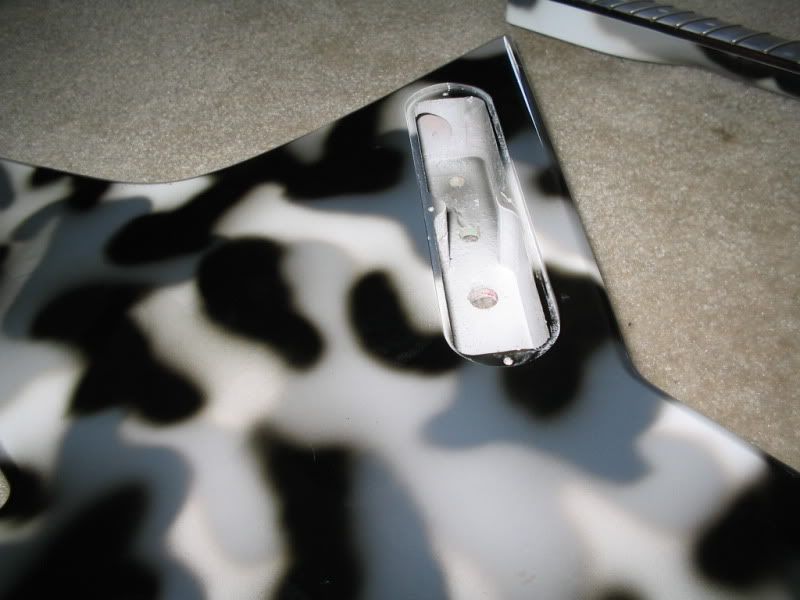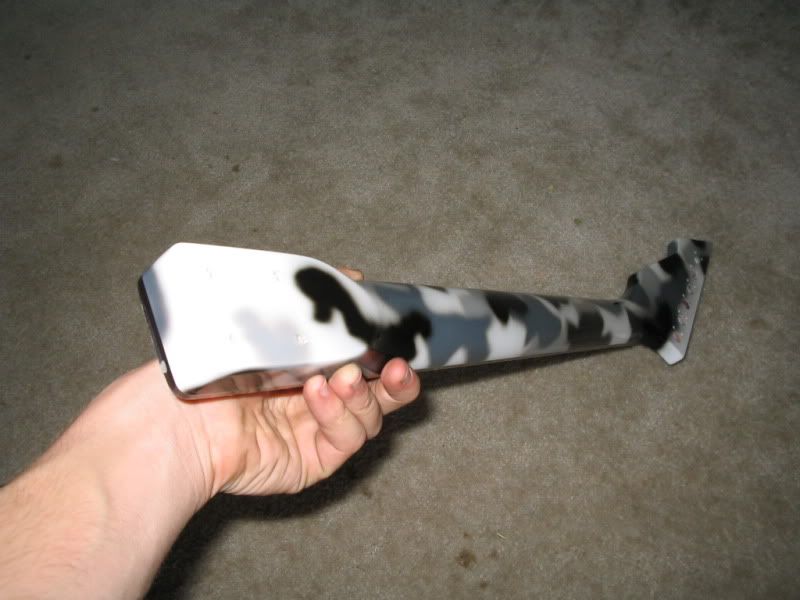 The guitar, broken down. The spray camo left no square inch untouched. You can see how reflective the layers of clearcoat were.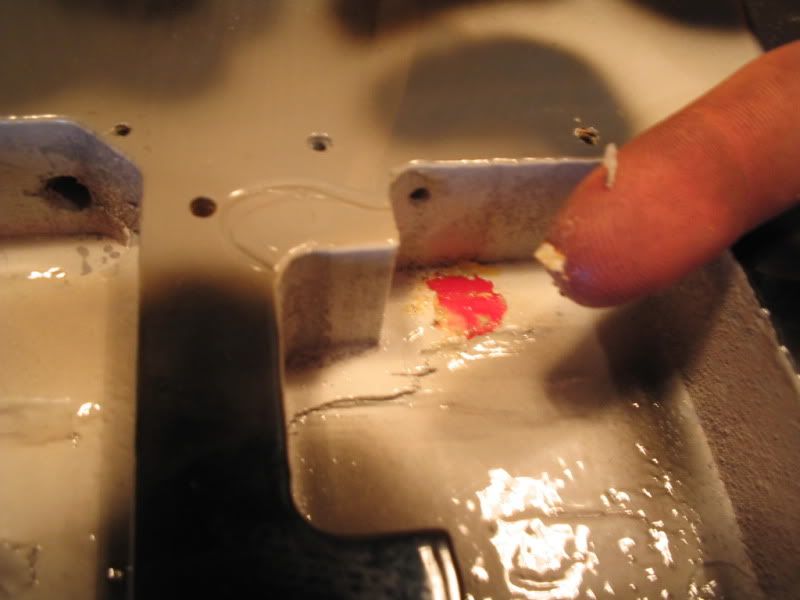 Inside the trem cavity - the paint layers underneath the top and clear coats were still wet! These bits in the corners flaked right off, revealing the original red paint. This custom paintjob was just caked on with no time to properly set.
All the layers are revealed - factory base coat, factory red paint, custom paint base coat, and custom spray paint coats. Unbelievable.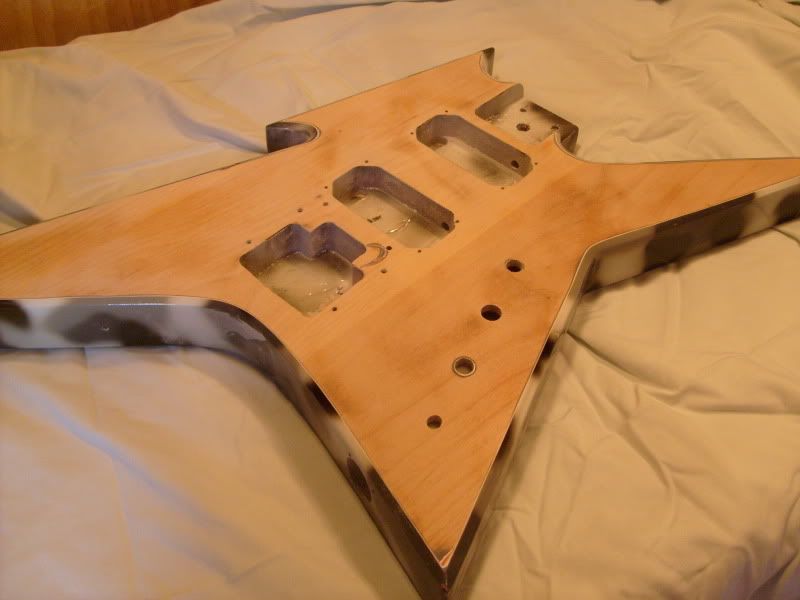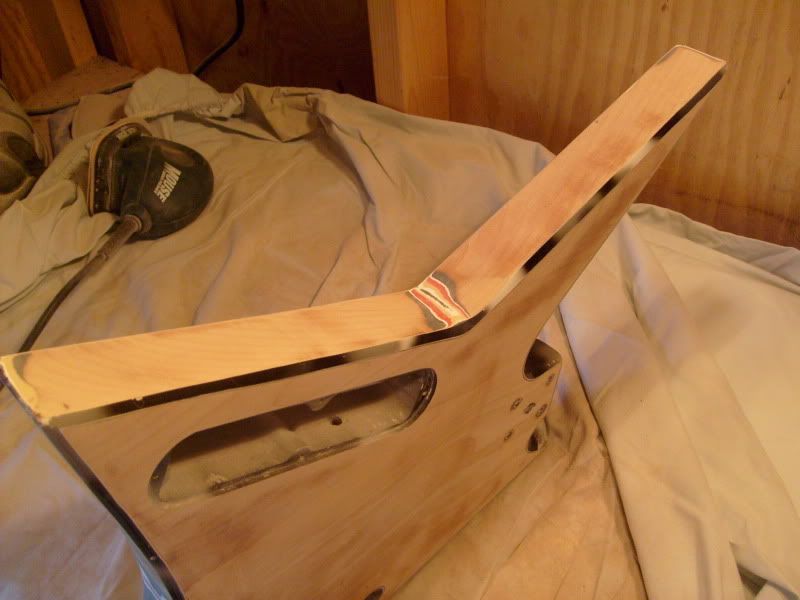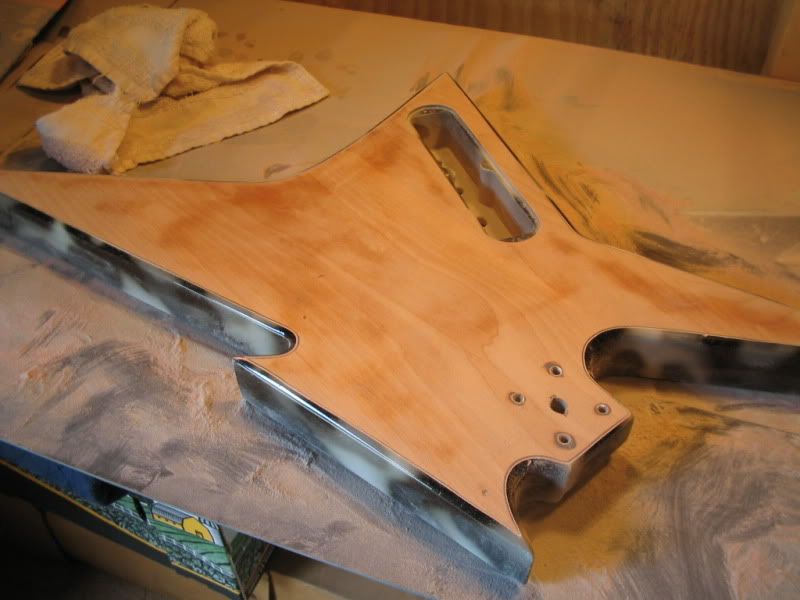 The beginning stages of sanding. Fortunately, the contours and edges are very well preserved. Used BC Riches are notorious for having some damage on the many jagged points of the neck and body, this is not quite the case for this guitar. The sanding took a LOT of effort, as you can see.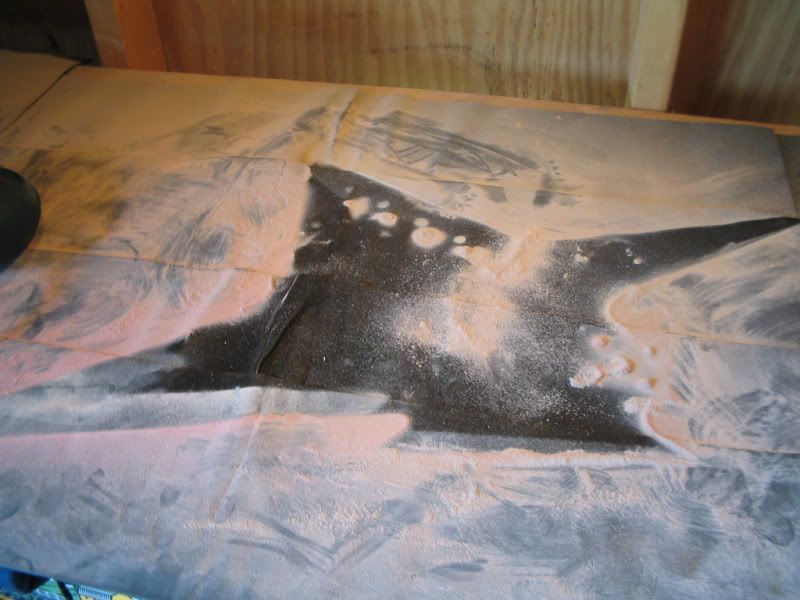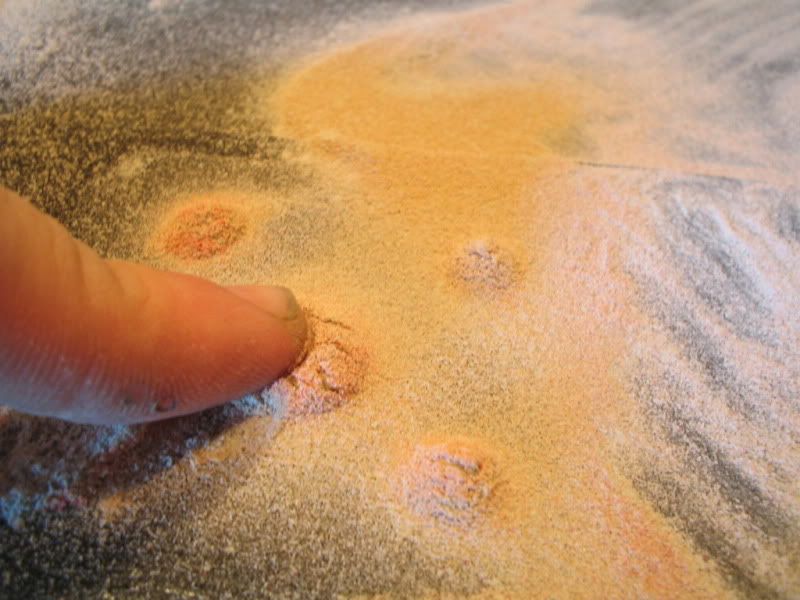 You can see how much material has already accumulated on the bench. This was roughly halfway through. It only got worse after this.
These pics were taken in the summer of 2009, when we lived in Georgia. I had a house with a shed, which was my work space for this project. Since I no longer have a place at my home to work on this, I have to take the guitar to work and work on it when I get a chance. I'm very eager to continue this project, and it's hard to find a chance to work on it. So, progress will be slow but sure. The guitar is 95% sanded now, as you can see. The bulk of the heavy sanding is done.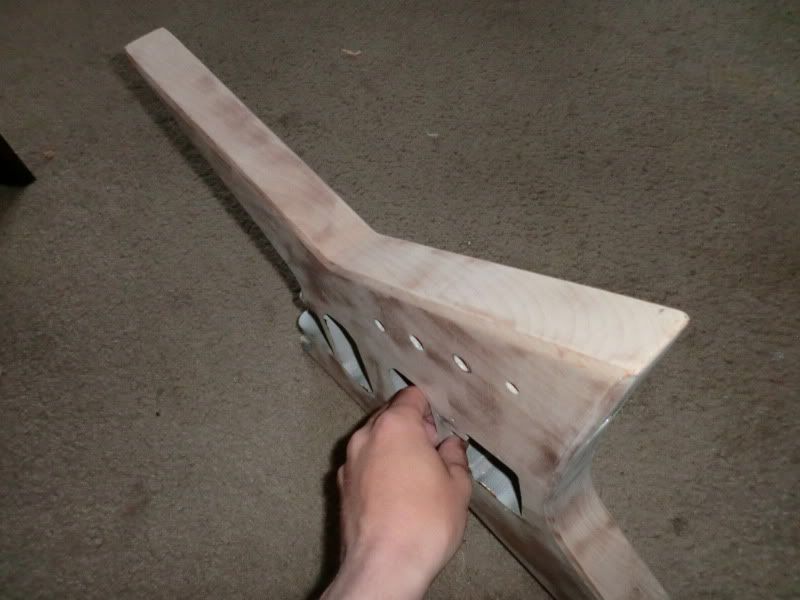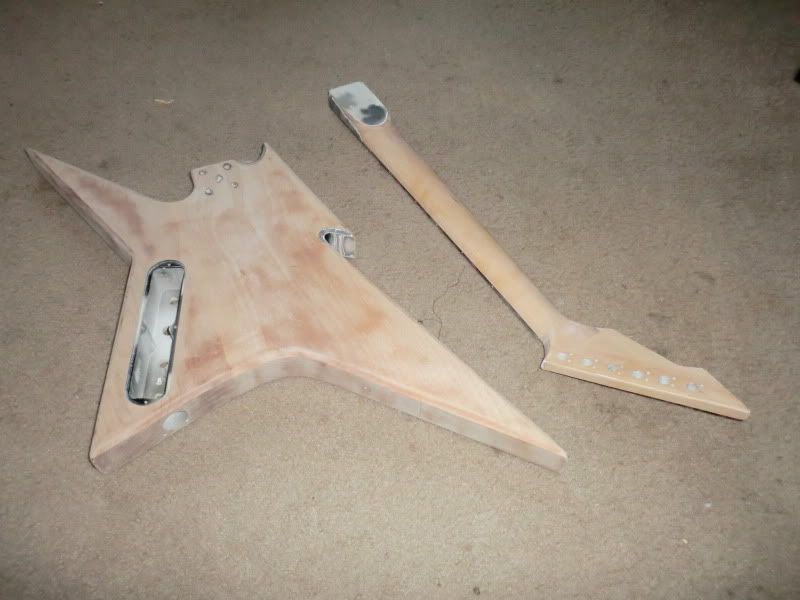 It's getting there. Just a little bit more sanding. I'm having to use an electric rotary tool and a steady hand on the pickup, bridge and service cavities. No, the random piece of thread on the floor is not part of the project.
The next step: I'm having the fretboard removed and replaced with an ebony fretboard, with no inlays. I'm going with the professional route on that, since I lack the resources to properly replace a fretboard.
Check back for updates! This project is up and running again, after sitting stagnant for nearly 3 years. The final product will be well worth the wait. I already have a color scheme in mind, and will be ordering the paint in the next few weeks. As far as the electronics go, I haven't decided yet on the pickups. Should I stick with the stock NJ Series-era hums, or go with something hotter? I may swap them for a more modern pickup, since I want this guitar to be a crushing metal monster. I haven't done any research on that yet, so I'll touch back on that at a future date.
- Vhyle