Well, I'm a bit overdue on this post, so forgive me. But if you haven't heard, the debut Algarothsyum album is out! It was released May 1st, 2012.
The album is titled "Wastelander's Epoch". It's comprised of 11 tracks, spanning a total of 61 minutes. The music is, of course, instrumental in nature. The atmosphere is very dark, melancholic and is intended to paint a mental image of life and times in the wasteland. Since there is a lack of vocals and lyrics, the visual interpretation is completely up to the listener, which I feel offers more "listening freedom" to the fans.
I've been promoting the hell out of this album since the release, so there's really not much more I can say about that on this post, promotion-wise. But I will use this blog post to talk about the making of the album, for those of you who are curious to know how it was crafted.
The album was recorded from October 2011 to April 2012. The first four tracks appeared on the demo originally, so those were recorded fairly quickly. The rest of the material was roughly 60% pre-written, and 40% written during the recording process. There were a lot of riffs that were composed during the recording process, especially during the Wastelander's Epoch 4-track suite. To me, this mix of recording pre-written riffs and improvised riffs works best. A lot of people start recording when everything is 100% written, but I've noticed that this is less efficient for me. I'm always very happy with the result with this kind of approach to recording, so this formula works for me. I have a lot of composed riffs and ideas crafted together, but never a 100% complete song before recording. It often gets finished along the way. I feel like I come up with better songs this way.
The order went like this: 1) rhythm/clean guitars, 2) bass, 3) ambient/sound effects, 4) drums, 5) guitar solos, extra leads, any other additions. The solo to "A Journey, Part I" was pre-written, of course. I played it the same way on the album as I did on the demo. Most of the other solos and leads were improvised until a solid composition was formed.
Programming the drums was the most tedious task out of the whole process. I've made posts about it before so I won't say too much. I programmed the drums to closely mimic my playing style, down to the accents. But it's rewarding to hear the final result - very realistic, convincing drum tracks. The drums were programmed with Drumkit From Hell.
Recording, mixing and mastering was done entirely with Reaper 4.0. I've been using Reaper for several years now, and I'm extremely satisfied with the software. For its price-to-capability ratio, you can't beat it. I used Reaper (v3.xx) for the 2011 demo as well. I run Reaper on a cheap, no frills HP laptop (although I'm in the process of putting together a much more powerful desktop PC for recording). The guitars and bass were recorded through a Digitech guitar processor, through a USB input. No amps were used for the entire recording.
All songs are played in D-standard tuning, except for "Repose" and "Travelling Song", which are E-standard.
The artwork was also my creation. And yes, that is a picture of me holding one of my guitars.
I think that covers the jist of what the album is comprised of, and how it was made. If you haven't heard the album yet, go give it a listen on the various links below. The album is for sale on Bandcamp for a mere $7. This includes the 11 tracks of music, and a high-res wallpaper of the cover art. So far, the album has gotten really good reception. If you're a fan of any sort of metal or atmospheric music, you will definitely enjoy the album.
Album artwork: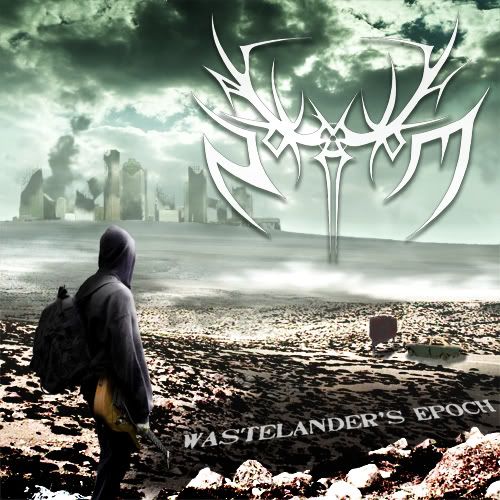 LINKS
Buy a digital copy of the album on
Bandcamp
Listen to the album on
SoundCloud
If you're a SoundCloud user, feel free to follow me, as I am pretty active on that account.
When the funds are available, I plan on getting physical CDs pressed in limited numbers. But for now, the album is available digitally.
With all of that said, I hope you enjoy the album! I put a lot of hard work into making it, and I enjoyed watching it come together into a 61-minute journey. Feel free to leave comments on the album here, or anywhere on my pages.
Now I can take a small break from Algarothsyum, and focus more on other projects. Expect another blog post soon on my next projects! Check back often.
- Vhyle