I suppose it's a bit odd to post this a month after the fact, that the new Algarothsyum album is officially released. "The Obsidian Towers", the second full length album from my project, was released about 10 minutes after midnight on January 1st, 2014. The entire undertaking took about five months - recording, drum programming, mixing and mastering, and artwork. There were a lot of struggles and hardships along the way. Many struggles of my personal life have carved some of the textures in the music, such as periods of anxiety and depression. There were many days that made the album's progress a bit difficult. Upon the album's completion, I felt very drained. It took a lot out of me, mentally and emotionally. Every note has a meaning. Nonetheless, the end product is well worth it. I am proud of the album. I sincerely hope you, the fans, enjoy the work.
It's already established that Algarothsyum is a continuing concept of a man's struggle of his survival in a post-apocalyptic wasteland. As I have already posted before, I am in the midst of writing a story that follows the legend of said character. "The Obsidian Towers" is a continuation of the story where "Wastelander's Epoch" left off. I have the outline of the story already compiled, which allows me to continue writing new music for the concept. The story itself will fill in all the many fine details. As far as the writing itself, there has been little progress made due to schedule and time constraints of my busy life. Regardless, it will be completed one day.
My ideas and concepts I had while approaching the composition of "The Obsidian Towers" were more textures, atmospheric elements and more progression. The songwriting took a slight turn as I used an Ibanez 7-string and the addition of keyboards, compared to the lack of keys and 6-string guitars from the first album. I wanted to paint an even bigger landscape with the music. I personally feel like I successfully achieved this. Each track has a lot to take in. It will take several concentrated listens to fully ingest all the small nuances that are going on in each song, and that was my intention. I wanted the listener to be fully involved. I feel the album is personally enjoyed best with good headphones, because there are some things that could be missed on a stereo. If you enjoy the album, I highly suggest listening to it with some good headphones. Leave out all other distractions and give it a listen.
The entire album lasts about 57 minutes, which is a few minutes shorter than "Wastelander's Epoch". However, there is only seven tracks. This obviously calls for long track times. During the composition process, the track times honestly did not feel as if they were to exceed 8 minutes. I wrote with the music with a flow that I felt was ideal, and they simply turned out to be long. That's ok anyway, because I love song songs. I love songs that constantly change and tell a continuous story, even with a lack of vocals.
Also, if you notice, the last track is a cover of "A Kiss To Build A Dream On" which was originally recorded by Louis Armstrong back in the 1950s. I did that to pay a tribute to one of my favorite games of all time, Fallout 2. The early Fallout games are major players into why I have such an obsession with post-apocalyptic themes. So I felt compelled to perform an instrumental take on that track, to give a little something to the Fallout fans out there.
I've gotten a few questions about the artwork. I did the artwork with colored pencils, and it took about 3 days to complete. The only changes I made on the computer were I changed the contrast a bit, and added text. I felt like doing the cover art with my hands this time, instead of using software. It feels much more personal this way, and has more meaning to me. I felt it to be much easier to portray the mental imagery I had from the music by hand. I'll most likely continue to do artwork in this fashion.
Anyway, I sincerely hope you enjoy the new album, "The Obsidian Towers". You can download a copy of it at any price you choose, with the link below: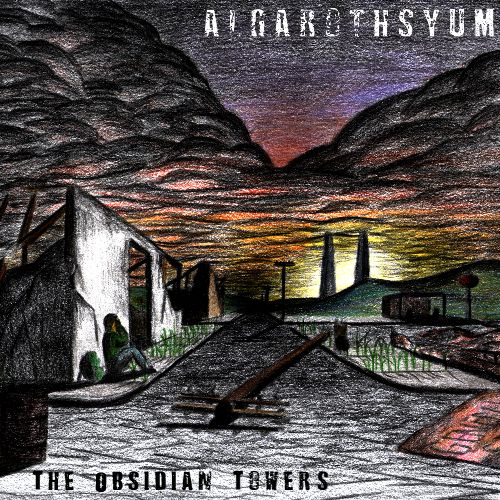 Although a donation is not required to download the album, it is always GREATLY appreciated! I write and record this music for the sheer enjoyment, and to share my ideas and visions with the world. If you choose to donate, that shows me your selfless support for not only my music, but for the many other independent musicians out there, that also release music for their enjoyment. I put in a lot of hard work, sweat and heartache into my music, and regardless of the troubles along the way, I am always determined to finish it and release it for any price you choose. This applies to so many talented, undiscovered bands and solo artists out there as well.
Following the release of this album, I'm taking a break from Algarothsyum and redirecting focus to a few other projects I have lined up. I'll post more details on those in the near future, so keep your eyes peeled. I also plan on posting album reviews of a few unknown bands and artists that greatly deserve the recognition. I may start doing that again regularly, if it pans out well.
Now, enough of that. Enjoy the new album, and take place in the continuing saga of travelling through the wastelands.
- Vhyle